DOCUMENTS
Lessons from the struggle to defeat racist anti-immigrant amendments to the Massachusetts State Budget for FY 2012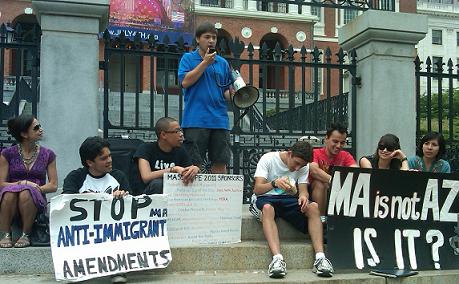 By Sergio Reyes
Boston May Day Committee

3-Jul-2011.- This year again the Massachusetts Budget was the field that anti-immigrant politicians chose to include their nasty venom. We had a similar experience last year that was met with fierce resistance by immigrant rights advocates lead by the young people of the Student Immigrant Movement (SIM). Just like last year most of the racist, anti-immigrants amendments were either withdrawn or rejected but some elements remained. Therefore the victories were significant but partial.

The strategies used in this grassroots campaign however are very important for the movement nationwide. SIM took the initiative to carry out direct action by setting a 24/7 vigil in front of the State House to call attention to the amendments and to express a strong opposition to them. Once the direct action was initiated a support coalition was organized, this time called Mass Hope 2011. The vigil continued to be the main focus of struggle but at the same time SIM organized lobbying sessions following press conferences. Meanwhile an electronic petition was initiated in change.org and a Facebook established. Friendly listservs carried out a request to call each member of the committee that was discussing the amendments. While all the activists who advocate for immigrant rights supported the action, the stronger and weakest link was maintaining a constant presence at the vigil, which at one critical point counted with only one member. Later on the numbers increased again. We recognize the commitment, seriousness and responsibility of the young people who kept this alive.

Ironically many of our organizations that advocate direct action as an strategy in the struggle for immigrant rights were not able to support the direct action with bodies. Also some larger organizations whose job is based on lobbying also didn't mobilize their forces for that aspect of the action.

Another lesson is the lack of interest of the printed, radio and TV media. The Fox News studios is right smack in front of the State House but they didn't cover the action. None of the major newspapers covered the event either. The shining exception for commercial media was the New England news group Univision. This means that those of us who where not directly involved in the vigil should have worked on the local media to force them to provide coverage for this event but we failed to do so.

Likewise in reference to the detailed information about what these racist amendments were all about we needed to have some of the immigrant advocacy groups that count with lawyer teams make a better job at explaining them. Even after the event, there are still doubts as to what was that was won and what was not rejected. Below there is an attempt, using the very confusing www.malegislature.gov, to explain what amendments were withdrawn, rejected or approved.

34 - Bars US citizen children from state public housing if their parents do not have, do not yet have or cannot prove a lawful immigration status. (Withdrawn)

64 - Allows police to seize your car if they suspect you are undocumented and to keep it and sell it if you are deportable. (Withdrawn)

82 - Increases penalties for using or creating false documents. (Withdrawn)

122 - Requires any business providing any service to the state including subcontractors to use E-Verify
- Requires the state to investigate any tip relating to a violation of immigration law
- Increases the amount of times the state must verify immigration status
- Fine for fraudulent driving learner's permit
- Most benefits programs would have to document legal status
- Bars instate for undocumented
- Limits the receipt of all medical benefits to lawfully present residents including emergency Medicaid, Healthy Start and the Health Safety Net

Sections 145A, B repealed, C, D to take effect in 2012 and 2013 respectively. (Adopted)

125 - Poll workers may ask for state ID from anyone before voting (Rejected)

166 - Requires all health services applications to be verified via federal database. (Withdrawn)

353 - Creates 24 hr AG hotline to anonymously report suspected undocumented workers
- Implement E-verify for all state contractors and vendors, and any subcontractors working with them. (Withdrawn)

385 - Requires a license or state ID to register a vehicle; increases the penalties associated with using, creating, selling, or distributing an altered or false ID. (Withdrawn)

407 - Increases penalties for driving without a license (Withdrawn)

447 - Requires a Social Security number for all medical applications (Withdrawn)

Finally, we need to reiterate our gratitude and appreciation to the Student Immigrant Movement for this victory, which they won sacrificing their comfort for all immigrants and the non-immigrants who cannot stand the ugly face of injustice.

-----------------------

CLARIFICATION:

6-Jul-2011.- In an attempt to make sense of what was defeated and what passed on the 2012 Massachusetts State Budget that affected immigrants and in particular undocumented immigrants I created more confusion about this matter so here are some clarifications.

Thanks to Samuel Tsoi from MIRA for desciphering the budgetary stuff. This is what he said:

"What was shown in Sergio's analysis was what happened during the Senate floor debate when the amendments were adopted/rejected/withrawn back in May. The webpage where Sergio used might not have the final amendment that was adopted after it was redrafted: #122.1 - which became the packaged anti-immigrant amendments (technically one amendment) included without a vote or debate. So, instead it being the "1 out of 9" included last week as portrayed in this analysis, it was actually the one we were all asking the conference committee to remove this past month.

The final version released by the conference committee last week is available here: http://www.malegislature.gov/Content/Documents/Budget/FY2012/ConferenceReport-H3535.pdf which includes the Mass Health SAVE (Systematic Alien Verification for Entitlements database) requirements (Section 142 - starting on page 55 at the end of the document after all the line-items) - and does not include the other harmful sections, most notably E-Verify."

Finally the actual text in Section 142 follows:


SECTION 142. Said chapter 131 is hereby further amended by striking out section 183 and inserting in place thereof the following section:-

(a) Notwithstanding any general or special law to the contrary, the office of Medicaid within the executive office of health and human services shall: (i) continue to implement the state option provided by section 1902(ee) of the Social Security Act, 42 U.S.C. section 1396a(ee), to verify the citizenship or nationality of MassHealth applicants declaring to be United States citizens or nationals; and (ii) register for the federal Systematic Alien Verification for Entitlements, or SAVE, system and shall use that system to verify whether MassHealth applicants whose documentation is not available or is questionable are qualified aliens for benefit eligibility purposes.

(b) The office of Medicaid shall, on or before December 31, 2011, provide a written report to the senate and house committees on ways and means and the executive office for administration and finance detailing the specific steps it has undertaken to implement SAVE, the other departments it worked with to implement such steps and, if it was unable to implement the program by that date, the specific reasons it has been unable to implement the SAVE program as required by this section and a proposed schedule for implementation. Should the office of Medicaid find that it is not able to implement the SAVE system prior to January 1, 2012, it shall continue to undertake all reasonable, cost-effective measures to verify the eligibility of applicants, including ensuring eligibility on the basis of citizenship, during all times it is not implementing the SAVE system and shall continue to implement a cost effective system that utilizes SAVE.

(c) Consistent with federal and state law and notwithstanding clause (ii) of subsection (a), the registration for the SAVE system pursuant to this section may be incorporated into a system for the executive office of health and human services and all agencies organized therein to determine common eligibility standards for applicants; provided, however, that such system shall include registration for the SAVE system. Nothing in this section shall be construed to prevent the development of a system of common eligibility standards that includes additional agencies outside the executive office of health and human services; provided, however, that such system shall include registration for the SAVE system. Annually, on or before December 31, or as further developments warrant, the executive office of health and human services or the executive office for administration and finance shall report to the senate and house committees on ways and means the status of efforts to implement a system to determine common eligibility standards for applicants.

(d) Annually, on or before December 31, the executive office of health and human services shall report to the senate and house committees on ways and means and the executive office for administration and finance the amount of money recovered from recipients, providers or other vendors who fraudulently received benefits or payments under chapter 118E of the General Laws.