DOCUMENTS
Stop Hateful Anti-Immigrant 2011 Budget Amendements in Massachusetts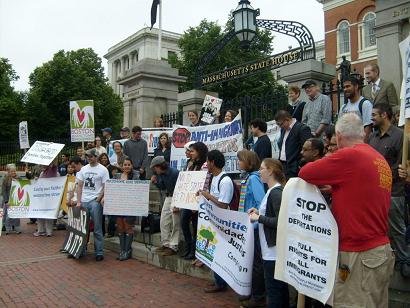 by Sergio Reyes
Boston May Day Committee

06-24-2011.- Again the Student Immigrant Movement (SIM) is leading the way to oppose a set of amendments included in the budget of the Commonwealth of Massachusetts that seek to deny basic human services to undocumented workers and students. SIM established a vigil camp outside the main entrance of the State House which started last monday June 20. At the same time they have galvanized support in a coalition called Mass Hope 2011. The coalition includes the National Lawyers Guild, Matahari Eye of the Day, Jobs with Justice, the New Sanctuary Movement, Arlington Street Church, Asian American Resource Workshop, MIRA, Unite Here Local 26, Dominical Development Center, Centro Presente, the Boston May Day Committee, Cambridge/Somerville for Change, PHENOM, International Action Center, Harvard SLAM, Mass. Coalition for Domestic Workers, SEIU Local 615, Brazilian Immigrant Center, Chinese Progressive Association, API Movement, Resist the Raids, Moise Kavod House, AFSC, and Projeto Nos Votamos. The coalition continues to grow and if your organization has not done so, it should do it in a hurry.

The SIM-lead tent encampment has already gone through a week of perseverence under rain, wind and cold. In those conditions they held a press conference this Friday 6/24/2011 and then proceeded to lead supporters into a lobbying session at the State House.

The demands are to request that the Redraft of Governor's 122 from the Massachusetts budget be removed. The amendments included contain hateful anti-immigrant measures. The amendments have passed the State Senate and are now in Conference Committee. These amendments would:


Prohibit undocumented heads of household from accessing state-subsidized housing, denying safe and affordable housing to children and families.


Require all publicly contracted employers with fewer than 500 workers to use E-Verify, a costly and redundant system.


Limit motor vehicle registration to people with a valid license and increase penalties for driving without a license, requiring undocumented people to choose between breaking the law and being able to access work and school.

SIM has also started a petition at www.change.org. The link to the petion is:

http://www.change.org/petitions/remove-anti-immigrant-amendments-from-massachusetts-budget

All supporters of human rights for all workers and students, regardless of their immigration status, should sign this petition. As of the writing of this article it counted with 220 signators. Interestingly, the Facebook page of the Student Immigrant Movement indicates that 2789 people support their struggle. If each one of these Facebook friends signed the petition the support will increase rapidly.

The coalition is also asking supporters to Call the conference committee members and ask them to vote against these amendments, known as "Redraft of Governor's 122."
Sen. Stephen Brewer, 617-722-1540
Sen. Steven Baddour, 617-722-1604
Sen. Michael Knapik, 617-722-1415
Rep. Brian Dempsey, 617-722-2990
Rep. Viriato deMacedo, 617-722-2100
Rep. Stephen Kulik, 617-722-2380

It is fair to say that these hateful measures will affect not only undocumented immigrant students but entire families. All of us need to make efforts to stop this situation, not only the immigrants directly affected.