DOCUMENTS
Amnesty International: Immigrants Jailed Without Justice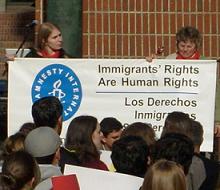 Migration is a fact of life. Some people move to new countries to improve their economic situation or to pursue their education. Others leave their countries to escape armed conflict or violations of their human rights, such as torture, persecution, or extreme poverty. Many move for a combination of reasons. Governments have the right to exercise authority over their borders; however, they also have obligations under international law to protect the human rights of migrants, no matter what prompted an individual to leave his or her home country.

This report focuses on the human rights violations associated with the dramatic increase in the use of detention by the United States as an immigration enforcement mechanism. In just over a decade, immigration detention has tripled. In 1996, immigration authorities had a daily detention capacity of less than 10,000. Today more than 30,000 immigrants are detained each day, and this number is likely to increase even further in 2009.

To read the full report in pdf format click here.