NEWS
Last Day of Work at the Social Forum of the Americas
Guatemala, October 11.- The Social Forum of the Americas is coming to an end. Today was the last day of workshops and events at the Universidad de San Carlos. The event will conclude on Sunday with a march and rally at the Plaza Central in the historical downtown area at noon.

I started the day attending the "Globalization and migration: effects on indigenous peoples" organized by MIGUA, the Movement of Guatemalan Inmigrants in the U.S." Among the panelists were Elvira Arellano, Carlos Lopez from Casa del Migrante, Eliza Orozco, indigenous leader, and Eduardo Jimenez. They stressed the impact of migrations in the local communities and the need to correct through education a consumerist development in those receiving remittances from the U.S. For those who are left behind, believing that those who have left are succesful materialy, are left with a sense of worthlessness.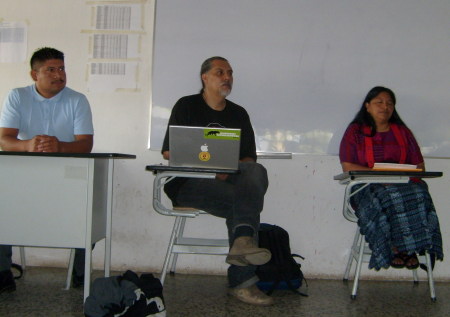 The presenters introduced a video from a "panelist who couldn't be present there." It was a magnificent message from Flor Crisostomo, who following on the steps of Elvira Arellano, decided to seek shelter, sanctuary in church rather than face detention and deportation. Flor's message concluded with a very specific proposal:

"We must take action. We must demand internationally the non-criminalization of migration, raising the right to migrate to the level of a human right in all nations. At the same time we must fight neo-liberalism. We can use tactics such as consumer boycotts and exercising pressure on our governments to contribute to a rational development of agriculture and local economies. We should also join forces in a wide red of people fighting for inmigrant rights. We must pressure our legislators and our governments to renegotiate the free trade agreements with U.S. and Europe."

During the afternoon the Assembly of Social Movements met, usually the most massive meeting during the forum. This event is like all the others not really an official meeting of the Forum itself. It is always hard to tell who organizes it, but in general those who started the process continue to control the process. We presented our resolution to be included in the final statement of the Assembly. We were not select to present our proposal because the organizers picked only two presenters within this theme. As I consulted why they had "rejected" our proposal, they said, "they didn't but only selected two and no more." Curiously, as you have already seen our proposal was critical of the process of the various forums on this area and had suggestions to improve the process. We had a similar experience in the World Social Forum in Nairobi.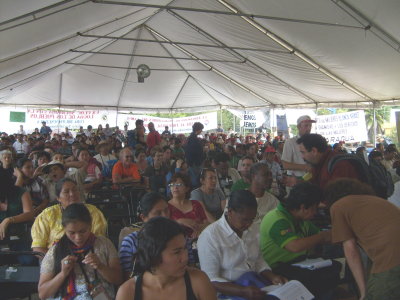 We did our best and we can talk more about the challenges that developed from the forum and how we can try to move forward our proposal, regardless of those who seek to lower its profile and importance.