NEWS
Foro Social Americas: Evo doesn't show up and our work continues
Guatemala, Oct. 10, 2008.- Evo Morales was "confirmed" up to two days ago to make an appearence on the third day of Forum. However, as some of us walked to the Plaza de los Martires to hear his speach, a friend of one person in the group told us that "Evo didn't make it. The event is cancelled." Before that, the workshop of the Boston May Day Coalition had taken place from 11am to 1pm. For two-and-a-half hour -- because it is customary to wait for a session to begin at least 30 minutes -- we tackled the issue of designing "Strategies to Stop the Repression of Migrant Workers and Obtain Their Rights."

Nearly fifty people, mostly young, attended the workshop. Like in other forums, we didn't have the presence of the compas that usually lecture on this issue at the forums. I had informed that we might have had the presence of Elvira Arellano in our workshop but, she didn't make it either. We counted though with the support of the AFSC delegation attending the Forum, among them Herman Martinez, Gabriel Camacho and Sebastian Quinac. Herman and I made a brief introduction to the need to carry out this process of planning for action and not just theorize about it nor go into a testimonial presentation. We also emphasized that this was a "workshop", a place to work, and not a presentation. We introduced a working document and set out to develop strategies to engage the federations of labor, peasants, students and women organizations in Latin America and the Caribbean in the struggle for migrant workers rights. I had previously met some union leaders in the Labor Tent, two of whom attended the workshop and took responsibility to contact labor organizations in Central America.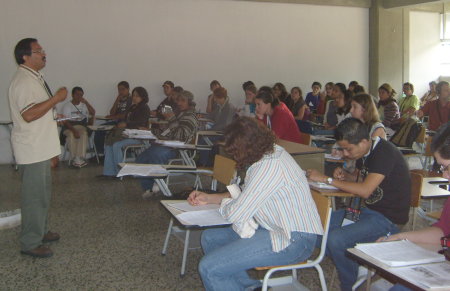 People working in the group approved the proposal to "carry out an action throughout the Americas and the Caribbean on April 30, the day before May Day. This will take the form of information sessions, protests in front of the U.S. embassies demand to stop the abuse and mistreatment of migrant workers and their familes. On May Day, while actions will take place in the United States, we ask that the labor movement in Latin America and the Caribbean dedicate May Day to the Struggle for Migrant Workers Rights." This will demand and intense work of contacting the labor, students and women organizations in the regions and securing their support. Likewise, regardless of the difficulties in reaching labor in the U.S. we will continue to try to reach them to get their support. Other elements were also discussed and work will be explored, including the expansion of support for the rights of migrant workers from afro-descendent peoples, in the North and South. Many of us took responsibility to follow-up on these matters.

Another decision made was to attempt to include in the final statement of the Assembly of Social Movements a resolution:

"In the area of migrant workers rights we make a call of attention to those working on the theme to make efforts to coordinate, inform and to follow through from one Forum to the next and in the various forums that take place around the world. Likewise, we emphasize the need to move from the theoretical and testimonial presentations to planning actions to achieve a solution to this tragedy created principally by transnational capitalism."

On Friday, I diversified my work and participated of a "Seminary with proposals and programs of joint struggle of the indigenous peoples against neo-liberalism." Leaders of indigenous peoples from Canada, the U.S., Peru and Guatemala presented proposals. They all agreed that it is necessary to overcome the systems based on the concept of "development", either capitalist or socialist. Instead they proposed a collectivist system based on the Indian concept of "good living." This is based upon the concept of non-domination of men over nature, but rather of working in concordance with it. Just as many of us demand human rights, they affirm that we should also be respectful of "nature's rights". It was encouraging to hear that just like we did on the strategy forum, also here people are demanding that we concentrate on organizing to carry out change rather than on speaking about it. This event took place in a large auditorium and was very well attended. Naturally, the speakers made reference to the advances that native people have made, in particular in Bolivia and Ecuador, and the need to defend theses processes.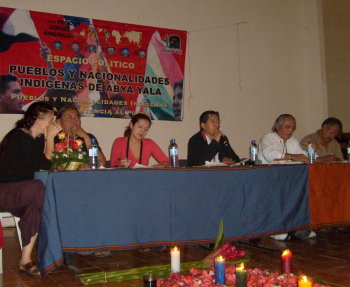 Before the official part of the seminary started, there was brief presentation by a leader of the Coordinating Group of Ethnic Peoples in Santa Cruz, Bolivia. He showed a video of when they were attacked by Nazi groups in Santa Cruz who set their building on fire and completely destroyed it. I got his contact and we should mobilize our progressive Bolivian friends in Boston to help them rebuild.

My second workshop had much more to do with what I do daily, that is the use of technology in social change. The workshop entitled "Communications of Social Organizations through the Internet". The presenter were a trio of very dynamic young people from Argentina and Costa Rica, who are developing an open source content management software, called Cyclope. As we all talked a bit ourselves I remembered that instead of highlighting the Boston May Day Coalition, I should instead talk about Tecschange. There was an immediate response of potential applicants to receive the computers that our U.S. capitalists dispose of. I provided the organization's website as contact and my own contact for proposals coming in Spanish. So, Tecschange, get those computers loaded with Ubuntu in Spanish ready! The workshop was useful as it explained how there is really no need to think about pirating or worse buying Microsoft software to work. They also provided ideas of what sort of things can social change organizations do with technology.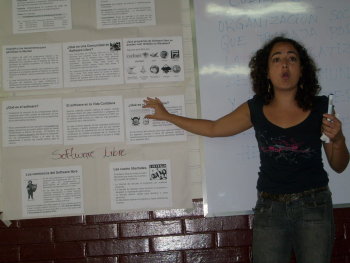 Finally, I ended the day attending a workshop entitled "We are all Haiti: for the withdrawal of foreign troops and the non-payment of the foreign debt." A brother from Haiti, economics professor at the university there, presented in an impecable Spanish a clear picture of the situation there, and requested from us and the world to support efforts to stop the occupation of "peace" troops from other countries in Haiti. He indicated that this coming 15th of october the U.N. will decide wether to continue the occupation or withdrawal from Haiti. There will demonstrations against it in different areas in Latin America and the Caribbean. Will anything be done about it in Boston? -- Finally, as he indicated that one of the problems they confront is the lack of information about the situation in Haiti due mainly to translation issues. I assumed responsibility to have their notes translated to English among our progressive Haitian compas in Boston.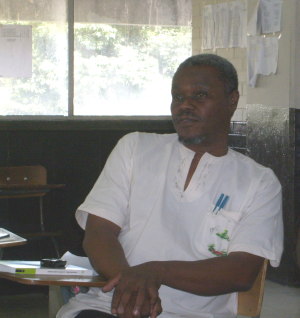 As you can see, I have been a bit busy here and taking on more work. All necessary for sure. La lucha sigue.