NEWS
Social Forum of the Americas: The work for the delegates has begun
Guatemala, October 8.- The day of work at the Forum begun and activists started the process of finding the location for the workshops, presentations and activities of interest. I attended the presentation entitled, "No wall in the U.S./Mexico border" offered by the Southwest Worker Union and the Indigenous Environmental Network from the U.S. The audience built up to a succesful size and lasted -- like all presentations here -- 2 hours. The dissertation part of the presentation took about 1 hour and 45 minutes, leaving little time for opiniones, comments, or questions. A good lesson to learn. I was lucky to be able to announce our "strategies" workshop for tomorrow morning and many people, including the ones at the podium, agreed with the concept that we already know the situation, and now need to concentrate in finding solutions.

Among the audience was the well known deported mexican activist Elvira Arellano, who had the opportunity to say a few words. After the event I had a chance to talk with Elvira, who attended the Third Social Forum on Migrations in Spain. She promised to attend our "strategies" workshop. (In the picture, Elvira Arellano (center) and Arturo Lopez, from Services to Migrants in Ecatepec, Mexico)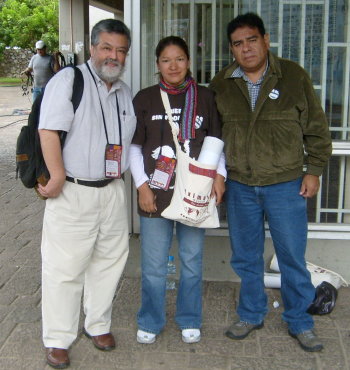 I also attended a workshop simply entitled "Migration workshop" to be presented by the Maya Waqib Kej, but we waited 45 minutes and the presenters did not arrive. By that time a heavy rain was falling and moving around campus was not an easy task. I then rushed to another workshop on the subject also scheduled for the same time in a building far from the one I was in. This one was calld, "For an integral service for migrants", by an organization named "Manos Limpias (Clean Hands)". I arrived one hour late, but I hoped to at least catch the last hour. To my surprise and frustration this workshop had been cancelled.

I decided then to attend a workshop in progress on militarism. The focus was Guatemala, but it touched upon all of Latin America. I couldn't find it listed in the program. However, it was a full room of mostly mayan attendees. The walls were covered with listings of the names of those assassinated by the military in Guatemala over the years and signs that said "we will not forget you!". The presenters emphasized the militarization of the Guatemalan northern border with Mexico and the resistance to the occupation of native lands.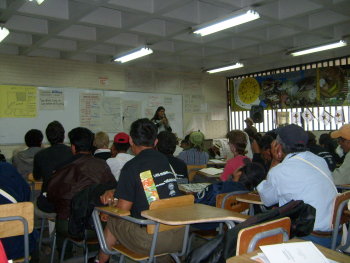 I then stopped at the Cuban tent, where former internationalist combatants in Angola where giving testimony and a presentation on Che Guevara also took place, given that today is October 8th and commemorates the killing of Che by the Bolivian military in 1967.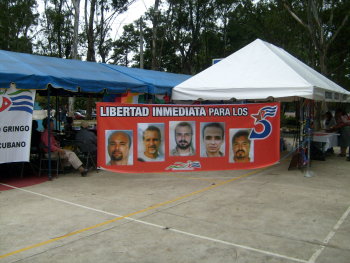 Finally, I headed toward the "union tent" hosted by the Confederation of Latin American Workers Union and OIT/ACTRAV. A panel there discussed the treatment of migrant workers, both documented and undocumented, in particular in the United States and promised to make efforts to obtain rights for these workers. During the lunch break I had the opportunity to talk to one of the panel members and presented him with our proposal. This positive approach in the way of providing union support to the struggle for migrant workers rights is exactly what we believe is necessary to overcome the repression and exploitation of migrant workers.

The rain continued until late and it ruined the musical/cultural presentation scheduled for the evening. Likewise, the Cuban musicians Vicente Feliu and Lazaro Garcia who were scheduled to give a concert at the mural dedicated to Che in the university was also cancelled. The mural had been retouched early in the morning before the rain.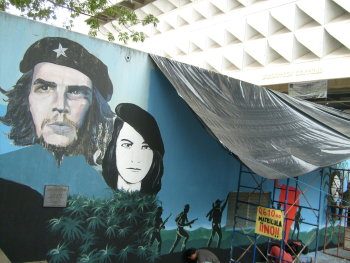 Walking through the extense areas of the San Carlos University Campus and judging by the murals and the writings on the walls, one could hardly believe that Guatemala is a country dominated by capitalism. The images of Che and also of some Guatemalan guerrilla and student leaders killed by various Guatemalan governments are everywhere. In fact the main plaza is called the "Plaza of the Martyrs."

Tomorrow is our presentation and the "jornada continental de solidaridad con Bolivia and President Evo Morales". I am looking forward to both.