EVENTS
[PAST] Bolivian musician Manuel Monroy, "Papirri", in Concert in Boston on May Day 2008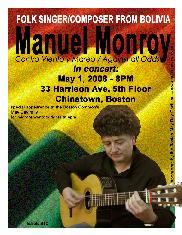 The history of Manuel "Papirri" Monroy is one marked by the study of music, creativity, and cultural work. While he is definitely in the category of musicians of the "new song" movement from Latin America, his poetry and music escape some of the conventionalism of the movement. Manuel initiated his musical career playing classic guitar, but later on composed his own songs and became famous at various social song festivals. In 1980, under the dictatorship of General Garcia Meza he was forced to go into exile in Mexico and was able to return to Bolivia only in 1984.

More recently, in November of 2005 Manuel donated the rights of his song "Pajpaku-Tinku contra el ALCA" (against the free trade agreement) to support the presidential campaign of the peasant leader, Evo Morales. Beyond his social committment, Manuel is a virtuoso of the guitar, but also an excellent player of the Bolivian instrument, the charango.

Manuel's performance at Encuentro 5 was received with ovations by the people in attendance. He was accompanied in percussion by bolivian Berklee College of music student, Enrique Lara. His recital was a fitting closing for the celebration of International Workers Day.

You can have a taste of Manuel's music at the following links:

Samba do avião

For those who speak Spanish, Manuel's official site is www.papirri.com

To download a flyer for the event in color click here.
To download a flyer for the event in black and white click here.

BRIEF BIOGRAPHY OF MANUEL MONROY

Manuel Monroy-Chazarreta, widely known in Bolivia as "Papirri", was born in La Paz in 1961 where at the tender age of 7 started playing guitar in public with her mother Anita Chazarreta. Anita was a classic guitar player and Manuel's grandfather, Andres Chazarreta, was an Argentinean folk musician. Manuel played classic guitar and folk songs composed by his grandfather until his mother death in 1976.

In 1979, however, Manuel participated as singer/composer in the First Festival of Social Song sponsored by the Universidad Mayor de San Andres (UMSA). The song Manuel composed for the event was called "Dialectica de la flecha a la bala", which roughly translates as dialectics from arrow to bullets. His song took then second place. His participation in the social song movement was a direct result of his social activism in the larger Bolivian struggle for rights and people's democracy. When he participated in the Social Song Festival of Santa Cruz, he and other participants received death threats. The future de-facto president, General Garcia Meza already worked for the Ministry of Government (equivalent to state secretary). Fascism was already intent on repressing culture and during the same festival they arrested Cuban musicians Vicente Feliu and Lazaro Garcia who were invited to participate in the event.

In July of 1980, General Garcia Meza lead one of the most violent coup de etats in the history of Bolivia, killing popular political leaders such as Marcelo Quiroga Santa Cruz. Progressive and radical cultural workers were also repressed by the fascist regime of Garcia Meza. He and his family go into exile in Mexico were he continued his work as musician and composer. Here he joined the thriving movement for social song while continuing his studies in classical guitar.

In 1984, Manuel goes back to his native Bolivia and joins in also with the labor movement offering a concert for a miners march, joined by other singer/composer, Luis Rico and the group Savia Nueva.

In 1986 Manuel is invited to participate in a large event in Peru where he plays with the likes of Silvio Rodriguez, Pablo Milanes and Irakere, from Cuba, and Alberto Cortez from Argentina. As he participated of this event, he received painful news from Bolivia that his father, German Monroy Block, a miners leader and intellectual author of the agrarian reform and minister of education of the national revolution of 1952.

After this Manuel works feverishly composing, recording, performing and teaching. In 1994 Manuel recorded the theme "Bien le cascaremos" (we'll give them what they deserve) for the label Discolandia. This became a national success in Bolivia. While Manuel can be included in the "new song movement" genre, his songs were never too conventional, based in an intense study of human beings, creating a series of characters who are the object of his songs, were many of us see reflected our own lives.

In October of 1997 Manuel was invited to participate in a Festival to Honor Ernesto Che Guevara on the 30th anniversary of his death. Manuel composed in Santa Cruz the song "Al Che" (for Che), which became the hymn of the festival. Talking about the commercialization of the image of Che, Manuel would say: "I can assure you that he was not only a key ring. This calm soul was not a sticker. I can assure you he was neither an adventurer nor a dumb tourist. His ardent look was hope for the people and his boots ended up broken with so much love." That same year, Manuel is hired to lead a television program called "Cultura Viva" (live culture).

During 1998 and 1999 Manuel abandoned temporarily his public concerts, music teaching and television. He then undertook the organization of children and youth, especially those who worked on the streets of La Paz forming theater and music groups with them.

In the year 2000, the Argentinean rock musician Litto Nebbia visits La Paz and convinces Manuel to work on a record dedicated to Manuel's grandfather Andres Chazarreta. The project was announced publicly by Nebbia early in 2001 and completed the same year. Since then Manuel has not stopped his music performance and compositions in Bolivia and abroad.

In November of 2005 Manuel donated the rights of his song "Pajpaku-Tinku contra el ALCA" (against the free trade agreement) to support the presidential campaign of the peasant leader, Evo Morales. This song is part of the CD "Ahora es cuando" (now it is the time), recorded by various musicians such as Alvaro Montenegro, Carlos Ponce, Saul Callejas and Juan Carlos Cordero among others. All of them belong to the organizations called Artistas Unidos por el Cambio (artist united for change).