NEWS
38th National Day of Mourning in Plymouth, Massachusetts. No Thanksgiving. Migrant Repression Acknowledged.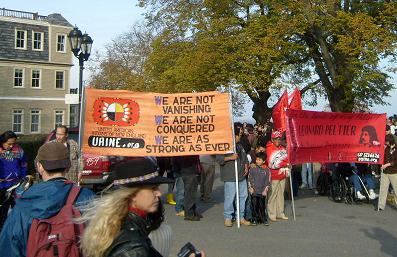 Again this year like 37 times before a group of hundreds of native people and supporters gathered in Plymouth to hear truths most people ignore or don't want to hear. This is not the history of fake harmony commemorating the so-called first thanksgiving, but a history of destruction, appropriation and genocide by European invaders in the Americas.

This year the messages were powerful as usual. They were messages of denunciation of injustices and of remembrance of those who are no longer with us in this struggle, in particular our companion Sam Sapiel who passed away last May 2007. For those of us who have attended this ceremony year after year it was customary and comforting to hear the gentle words of this proud Indian activist and spiritual leader.

Always present at this ceremony are the Indian political prisoner Leonard Peltier and African American Mumia Abu Jamal. Also a strong message this year was one in support of undocument migrant workers and a committment to join the struggle to stop their persecution, repression, raids and deportations.

By the solid presence of native americans from North, Central and South America it is clear that the closing words of the main speach are true: "In The Spirit of Metacom: We are not vanishing. We are not conquered. We are as strong as ever."