EVENTS
[PAST] SEND AN EMAIL TO OBAMA THIS DECEMBER 18, 2013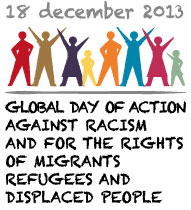 On or around December 18, 2013 -- International Migrants Day send an email to President Obama to sign the International Convention on the Protection of the Rights of All Migrant Workers and Members of Their Families Adopted by General Assembly resolution 45/158 of 18 December 1990

There is no direct email set for the President of the United States. Rather they are channeling people to feel out an email form at a White House website. Don't feel discouraged and take the time to make your voice heard by going to:

http://www.whitehouse.gov/contact/submit-questions-and-comments

Send us a note indicating that you sent your email to President Obama at info@globalmigrantsaction.org. Thank you!


Dear President Obama,

You probably know that on December 18 people around the world will celebrate International Migrants Day. Many will engage on a Global Day of Action for the Rights of Migrants, Refugees and Displaced People. More information about this global initiative can be found at www.globalmigrantsaction.org

You also probably know that while most countries in the world have signed this convention the United States, Canada, and European countries have not done so.

It is imperative that for once the United States stand on the side of human rights at the United Nations, rather than use this body to launch military attacks around the world. Also the dire situation of nearly 12 million undocumented migrants in the U.S. require at least this protection given that our immigration laws only make the situation of exploitation of undocumented workers worse.

Also, we still await for you to fulfill your promises regarding immigrants and to stop detentions and deportations of people whose only interest to be here is to work so they can feed their families.

We want to hear from you about this matter on December 18, International Migrants Day.

Thank you.