NEWS
PROTEST ICE RAIDS IN CHELSEA, A SANCTUARY CITY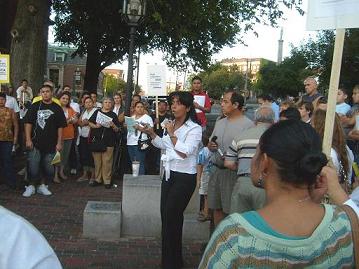 Twice in one month ICE police and other forces have raided immigrants in the City of Chelsea, Massachusetts after its city council proclaimed it sanctuary city on June 4. The first raid took place on August 8 at the parking lot of the Market Basket. Then ICE explained they were going after criminal elements trafficking in falsified documents. They detained about 30 brazilian people, and released seven names to the press.

The second raid was larger and included Chelsea, but also extended to East Boston, Everett, Lynn, Revere and Somerville. This time they justified their operation as going after members of the infamous Mara Salvatrucha gang, composed mostly of Salvadoran nationals. ICE however has declared to The Globe on 9/1 that the nationality of the 36 people in detention can be traced to El Salvador, Colombia, Guatemala, Honduras, and Nicaragua. They also say that they cannot release their names because they were all detained not for criminal charges but for immigration reasons.

Something is not right here and we must confront this irregular situation that spreads fear and panick in our neighborhood and demand that ICE gets out of our communities. We also must demand that Chelsea city officials and the police in particular respect the democratic ordinance passed by the City Council.

The following elements from the resolution are absolutely clear and must be respected:


Immigration raids that spread fear and break-up families are not warranted or wanted in Chelsea.

Sanctuary Cities promote a community as a safe haven for refugees and immigrants who are currently residing in that community from other countries.


STOP THE RAIDS!
STOP THE CRIMINALIZATION OF MIGRANT WORKERS!
STOP THE WAR ON IMMIGRANTS!
UPHOLD THE SANCTUARY CITY STATUS IN CHELSEA!
LET'S MAKE BOSTON A SANCTUARY CITY!