NEWS
May Day 2010 at the Boston Common: broad unity around radical demands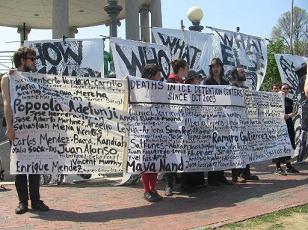 by Matthew Andrews
member of the Boston May Day Committee and the Socialist Party of Boston

Boston activists enjoyed summer-like weather last Saturday on the Boston Common for a protest that looked like a response to the Tea Party of just a few weeks ago. But this demonstration wasn't merely inspired by the urge to counter Sarah Palin. May first is International Workers' Day, traditionally referred to simply as May Day. The holiday is celebrated globally with parades in Venezuela and Cuba, while Greece and Nepal face general strikes and civil unrest. May Day was originally founded in Chicago in 1886 when immigrant workers organized by anarchists struck for an eight hour day.

This year's rally began with a spirited "feeder" march from Boston's North End organized by anarchists, complete with giant puppets of the Haymarket martyrs of Chicago, as well as Sacco and Vanzetti, local Italian anarchists executed in 1926 by the state of Massachusetts in a climate of anti-radicalism and xenophobia. As Dorothea Manuela and Bryan Koulouris began introducing speakers, the crowd began to swell with one contingent after another arriving. There was the Student Labor Action Movement and the Harvard No-Layoffs Campaign arriving from Cambridge. Next came the Student Immigrant Movement marching in graduation gowns. The rally also welcomed buses arriving from Worcester and Fitchburg. In total there were about twenty endorsing organizations.

We enjoyed music from the theatric Bread and Puppet troop, and speeches covering a range of issues from immigrant rights, to the crisis in public funding for human needs and the costs of war. Some of the speakers were translated from Spanish and chants in both English and Spanish rumbled through the crowd. Organizers worked the crowd passing out flyers, stickers, and placards, signing up volunteers, and collecting donations to help cover the cost of the event.

The demonstration probably peaked at one o'clock when about five hundred people filed into the streets. We marched down Washington Street where many shoppers and tourists took pictures or simply gawked as the anarchist contingent led chants of "Out of the shops and into the streets!" The march proceeded at a slow but steady pace to give onlookers time to absorb our message. We only stopped briefly to make note of anti-labor practices at the Hyatt Hotel on Avenue de Lafayette and then again as we turned back on Tremont Street, just a short distance from the ICE offices in the JFK building on the other side of Government Center.

Organizers had wanted to bring the march through Government Center and in front of the federal building, but the Boston Police Department denied us the permit we wanted. The police took a stance that seemed more based on politics than public safety when they told us our march merited stopping traffic either to pass the Hyatt or the federal building, but not both. The rally concluded on Tremont Street outside a military recruitment center lined with police motorcycles. In a final somber act of theater, demonstrators lay down under body bags with statistics relating the number of victims of war and border militarization. Bread and puppets played a slow tune while flowers were placed beside each.

According to plan, May Day in downtown Boston concluded in just two hours so people could also visit other May Day celebrations in the neighborhoods of East Boston and Jamaica Plain. The Chelsea Collaborative, Centro Presente and SEIU 615 were sponsoring a long march with rally points in the immigrant communities of Everett, Chelsea, and East Boston. In Jamaica Plain there is an annual community festival the first Saturday of every May called Wake Up the Earth which celebrates the coming of spring, community arts, and the anniversary of a victory over a highway development plan through the neighborhood.

This year's May Day on the Boston Common is politically significant beyond its modest size. There was broad unity on a range of radical demands. Instead of waving US flags and calling for the integration of immigrants, May Day revelers called for "full rights and citizenship for the undocumented." We replaced the nebulous slogan "Jobs not Greed" with clear demands, "Tax the rich, fund schools, clinics and communities." There was even an internationalist and anti-authoritarian flavor with the slogan, "Solidarity across borders, down with Washington's Orders."

In the past it has been very hard to build unity around a set of demands that so clearly challenges corporate and government power and also highlights the economic class line. Typically demonstrations of this size or larger are only possible when focusing on a single issue, and are built in coalition with mainstream unions, large non-profits, and others in the orbit of the Democratic Party. We can only dream of the Tea Party's resources, with full time organizers, the corporate media's favor, and major financial underwriting. Nevertheless, May Day 2010 shows that the left can speak its mind and still pull off a sizable demonstration.

We might not make many friends in high places, but we can speak truth to power and build our base among regular working people. Boston is not alone. Demonstrations like this occurred across the country and around the world. Another world is not only possible; it's necessary. And every day more people are ready to stand up and demand it.