EVENTS
[PAST] May Day 2010 on the Boston Common -- May 1, 12:00 Noon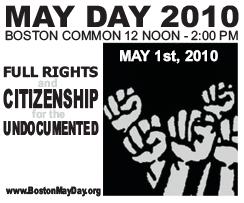 On May 1, 2010, the Boston May DayCommittee is organizing a march and rally starting on Boston Common at 12 noon. It will be joined by a procession from Boston's North End featuring large cut-out images of the 8 immigrant workers known as the May Day martyrs.

In the Common, we are proud to announce a special performance of the famous radical theater group Bread and Puppet and a series of speakers that will address the major demands for May Day.

The 1:00 p.m. March from the Common will focus on local anti-worker employers and the federal Immigration & Customs Enforcement agency.
May Day organizers are concerned that:

The Obama Administration deported 388,000 immigrants in 2009 (5% up from Bush's last year)

Nearly 20% of the workforce is unemployed or underemployed

The Obama Administration is escalating the wars in the Middle East with record casualties in Afghanistan and Pakistan.

Obama has supported the immigration proposal of Schumer (D) - Graham (R), which we flatly reject as repressive and guest worker oriented.

Across the globe and in the United States governments are cutting back on services while bailing out banks and real estate interests

Our action's slogans are:

Good Jobs Now!

Full Rights & Citizenship for the Undocumented!

Tax the Rich! Fund Schools, Clinics & Communities!

Fund Human Needs Not War & Occupation!

Bail Out Workers, Not Wall Street!

Solidarity Across Borders, Down with Washington's Orders!

Our endorsers include:

ANSWER Coalition, Boston Anti Authoritarian Movement, Boston Rosa Parks Human Rights Day Committee, Greater Boston Stop the Wars Coalition, Harvard No-Layoffs Campaign, Industrial Workers of the World, Latinos for Social Change, Mass Global Action, Sacco & Vanzetti Commemoration Society, Socialist Alternative, Socialist Party of Boston, Socialist Workers Party, Student Labor Action Movement, USW Local 8751 - Boston School Bus Drivers Union, Worcester Immigrant Coalition, National Immigrant Solidarity Network, Democracy Center - Cambridge, Cambridge, Cambridge/Somerville/Arlington United for Justice with Peace, International Socialist Organization, Community Church of Boston