EVENTS
[PAST] May 1st Coalition of East Boston, Chelsea and Everett Message for May Day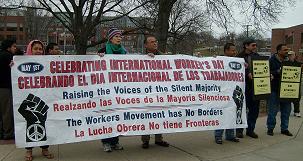 May 1st Coalition Message

"Yesterday We Voted for Change, Today We Demand Change!" is the unified message of the May 1st Coalition led by the Chelsea Collaborative, the East Boston Ecumenical Community Council, and La Comunidad Inc. (Everett), and their community partners and allies across the Greater Boston area.

Immigrant communities in Greater Boston demand a just and humane immigration reform from the Obama administration and US Congress while celebrating International Workers Day!

As part of a nation-wide and state-wide efforts, local community organizers are also mobilizing to send a clear message to:

1. End the draconian enforcement policies of the Bush administration.
2. Establish a new immigration policy based on human, civil, and labor rights.
3. As the current economic crisis unfolds policy makers must recognize the essential economic and social contributions of all immigrants to US society.

May 1st is a historic day marking workers struggles around the world. Home-grown in the United States commemorating the struggle for the eight-hour work day, it has become the forum that immigrant communities have adopted across this nation to demand rights and dignity for all workers.

As working people we demand:

End the workplace and residential raids

End cooperation between ICE & local law enforcement (287g agreements)

End non-criminal detention of immigrants

End deportations for civil immigration violations

End "E-Verify" and "No Match" Social Security Administration Letters

Stop all "Identity Theft" prosecutions for civil immigration violations

End border militarization and the construction of the border wall

As a diverse group of co-sponsors supporting the May 1st Coalition's event, including non-profit community based organizations, labor unions, small business owners, elected officials, faith based organizations, and other allies demand:

- Equal Labor Rights for all workers
- Equal civil rights for all
- Vigorous enforcement of labor laws
- Family Unification & Reunification
- In-State Tuition for all students
- Permanent Residence for all immigrants
- Public spending for the social wellbeing and not for war or corporate bailout

Many things were deemed impossible before the last November election, but today at every level of government, when it comes to immigrant rights, change needs to triumph over the politics of fear, ignorance and many years of bashing and denigrating immigrants. May Day highlights the dignity of immigrant labor – their contributions to society. Immigrants are part of the communities they live in. We cannot simply go, nor should we. We seek the same goals of equality, opportunity and prosperity that working people in the US have historically fought to achieve. We need to make sure that immigrant voices are heard and that just and humane immigration reform finally becomes a reality.