EVENTS
[PAST] Event in Solidarity with Indian Guest Workers on Hunger Strike in Washington, D.C.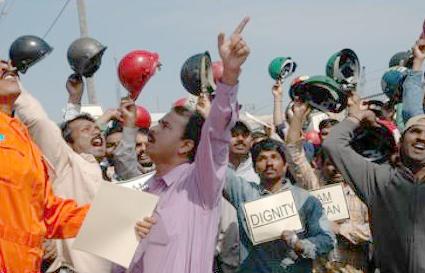 Please join us in solidarity with the guestworkers brought from India post-hurricane Katrina to rebuild the Gulf area. These workers and many migrant workers from all over the world have been and are being exploited and enslaved and forced to work under inhumane conditions.

The Indian workers, however, have stood up and are on a hunger strike in Washington, D.C. to demand protection and reparations for what has happened to them (and all other workers affected).

Come hear some of the workers tell their story and explain what they are demanding from the U.S. and the Indian government as a matter of justice!

When: Wednesday, June 11, 2008 7:00 pm - 8:30 pm
Where: Unitarian Universalist Service Committee/USC, Central Square Cambridge, 689 Mass Ave. above Citizen's Bank)

In solidarity,

MataHari: Eye of the Day, Jobs with Justice, Alliance for a Democratic and Secular South Asia, Cambridge Peace Commission, International Socialist Organization, MetroWest Immigrant Worker's Center, South Asia Center, South Asian Committee on Human Rights, South Asians Stepping in Solidarity, Boston May Day Coalition, and many others...

--
Carol Gomez

Founding Director, Matahari: Eye of the Day
Ending Exploitation. Building Solidarity. Creating Community Solutions.

Tel: 617-448-0993
Email: carol@eyeoftheday.org & caroljg@gmail.com
www.eyeoftheday.org

Matahari: Eye of the Day and its projects Filipina Solidarity Network, Haitian & Caribbean Solidarity Network, the South Asian Solidarity Network and Trafficking Victims Outreach & Services (TVOS) network are community efforts that prioritize transformative dialogue, reflection, critical thinking & creative solutions to address gender violence, slavery, sexual & labor exploitation & oppression in MA and throughout the globe. Our mission is to mobilize communities to engage hearts, minds and conscience to create safe, healthy communities, while building coalition, prioritizing the leadership and voices of communities of color and immigrants.