EVENTS
[PAST] 5/25 -- Public Event for Workers Rights in Quincy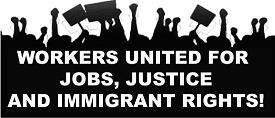 WORKERS UNITED FOR JOBS, JUSTICE & IMMIGRANT RIGHTS
All workers, immigrant and non-immigrant alike are under attack. What can we do to fight back?

A PUBLIC FORUM IN SEARCH OF SOLUTIONS

Tuesday, May 25th -- 7pm
Thomas Crane Library in Quincy Center
40 Washington Street, Quincy MA 02169

(Red Line to Braintree -- Quincy Center Station)

Organized by the Boston May Day Committee, Socialist Alternative, Socialist Party, Mass. Global Alliance, ANSWER

FIGHT LOCALLY, NATIONALLY AND INTERNATIONALLY AND RESIST THE RACIST LAW IN ARIZONA !!