A special section for May Day 2010 on the Common
This year, 2010, the Boston May Day Committee decided to dedicate an entire section of its webpage to news about the organizing process leading to May Day on the Boston Common. Please check this section to be up to date on the work being done to organize a strong showing of workers for May Day, native and immigrant alike.

To download the current flyer/stickers click here.

---
Reserve la fecha: 1ro. de Mayo 2010 en el Boston Common!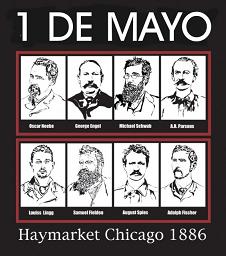 Estamos en medio de la peor crisis económica desde la "Gran Depresión" de los 1930s. Estamos viviendo la experiencia de despidos masivos y de un porcentaje de desempleo superará el 10%. Los trabajadores estamos perdiendo nuestros seguros de salud y nuestras casas, pero los trabajos siguen siendo contratados fuera del país.
Billones de dólares, dinero que ha sido extraído de la sangre de la clase trabajadora, son los que se les dan a las corporaciones de Wall Street para que los patrones reciban multi-millonarios bonos. Mientras las corporaciones agarran nuestro dinero y siguen pidiendo más, los mismos continúan destruyendo sindicatos y reduciendo las preciosas ganancias de los trabajadores que fueron ganadas por medio de luchas pacíficas y con mucho sacrificio, todo esto para que los trabajadores puedan mantener sus trabajos.

Para bajar el volante en formato pdf presione aqui.


[ + ]
---
[PAST] May Day 2010 on the Boston Common -- May 1, 12:00 Noon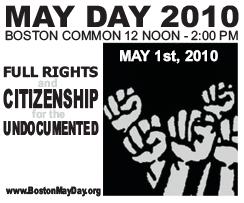 On May 1, 2010, the Boston May DayCommittee is organizing a march and rally starting on Boston Common at 12 noon. It will be joined by a procession from Boston's North End featuring large cut-out images of the 8 immigrant workers known as the May Day martyrs.

In the Common, we are proud to announce a special performance of the famous radical theater group Bread and Puppet and a series of speakers that will address the major demands for May Day.

The 1:00 p.m. March from the Common will focus on local anti-worker employers and the federal Immigration & Customs Enforcement agency.
May Day organizers are concerned that:

The Obama Administration deported 388,000 immigrants in 2009 (5% up from Bush's last year)

Nearly 20% of the workforce is unemployed or underemployed

The Obama Administration is escalating the wars in the Middle East with record casualties in Afghanistan and Pakistan.

Obama has supported the immigration proposal of Schumer (D) - Graham (R), which we flatly reject as repressive and guest worker oriented.

Across the globe and in the United States governments are cutting back on services while bailing out banks and real estate interests

Our action's slogans are:

Good Jobs Now!

Full Rights & Citizenship for the Undocumented!

Tax the Rich! Fund Schools, Clinics & Communities!

Fund Human Needs Not War & Occupation!

Bail Out Workers, Not Wall Street!

Solidarity Across Borders, Down with Washington's Orders!

Our endorsers include:

ANSWER Coalition, Boston Anti Authoritarian Movement, Boston Rosa Parks Human Rights Day Committee, Greater Boston Stop the Wars Coalition, Harvard No-Layoffs Campaign, Industrial Workers of the World, Latinos for Social Change, Mass Global Action, Sacco & Vanzetti Commemoration Society, Socialist Alternative, Socialist Party of Boston, Socialist Workers Party, Student Labor Action Movement, USW Local 8751 - Boston School Bus Drivers Union, Worcester Immigrant Coalition, National Immigrant Solidarity Network, Democracy Center - Cambridge, Cambridge/Somerville/Arlington United for Justice with Peace, International Socialist Organization, Community Church of Boston

[ + ]
---
Proposed May Day 2010 Support Resolution
The Boston May Day Committee in collaboration with local activists endorsed and supported by labor and community organizations, will commemorate and celebrate the 124th Anniversary of the Chicago Martyrs of 1886 on May Day, Workers International Day on Saturday, May 1, 2010 on the Boston Common. We ask that you please accept and request adoption of the below recommended or similar resolution by your organization.
[ + ]
---
Save the date: May Day 2010 in the Boston Common
We are in the midst of the worst economic crisis since the "Great Depression" of the 1930s. We are experiencing massive layoffs and an official unemployment rate that will soon pass 10%. Workers are losing their healthcare and their homes to foreclosure and jobs are still being sent overseas.

Billions of dollars, money that has been bled for the working class, are being shipped to Wall Street corporations so the fat cats can collect their multi million dollar bonuses. While these corporations grab our money and ask for more they continue their union busting and compel workers to give back precious gains, hard won through struggle and sacrifices, in order to keep their jobs.

It is time for us, native born and immigrant, union and nonunion to stand together united and determined to RESIST!

To download the flyer in pdf format click here.

[ + ]
---
Visits: 10625